Rose-Hip Vital module now APC Accredited!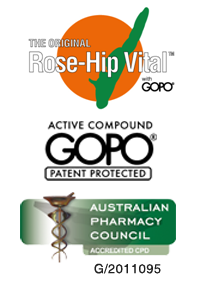 The Pharmacy Guild of Australia and the Australian Pharmacy Council (APC) have recently announced the accreditation of the Rose-Hip Vital education module on the iTherapeutics web site.
The first ever such accreditation for an Arthritis Complementary Therapy on the iTherapeutics web site, the accreditation allows pharmacists to g ain 0.5 CPD points towards their annual professional development requirements.
In a Press Release, Mr Diamond speaking for Rose-Hip Vital stated, "The 'iTherapeutics' Rose-Hip Vital module will help pharmacists to understand the abundance of scientific studies behind Rose-Hip Vital and allow them to make effective evidence-based recommendations for their customers."
For the full Press Release please click here.
Related Education Modules
Rose-Hip Vital™ - 100% Natural Anti-Inflammatory
For Pharmacists and Pharmacy Assistants. This module features the unique benefits of this powerful natural antioxidant and anti-inflammatory product for arthritic joint pain.