GAIA Natural Baby Launches Travel Wipes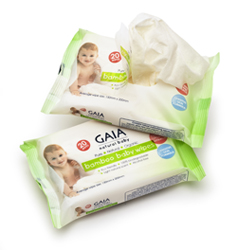 GAIA is proud to launch their Bamboo Baby Wipes – now in a convenient travel size of 20 wipes! 'Eco' and skin-friendly, the wipes are made from ultra soft bamboo cloth that biodegrades in just 14 days (independently tested), GAIA Natural Baby Bamboo Baby Wipes contain pure, natural, organic extracts to gently cleanse, soothe and care for your baby's skin at change time.
GAIA's sensitive skin formula has a light natural scent to cover the smell of soiled nappies at change time and is free from alcohol, petrochemicals, soaps, sulphates and paraben preservatives, so it is gentle enough to use on your little one's face, hands and nappy area.
Related Education Modules
GAIA Natural Baby Products - 2nd Edition
GAIA Natural Baby is Australia's leading pure, natural, organic baby skincare brand - find out why it's great to recommend it to parents, especially those with children with sensitive skin.